Alzheimer's Care Facilities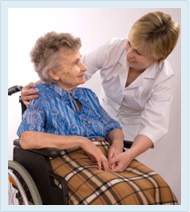 Alzheimer's disease is the most common type of dementia. In the early stages, the most commonly recognized symptom is memory loss, such as difficulty in remembering recently learned facts. But as the disease progresses and destroys brain cells, symptoms become worse, usually manifesting as confusion, anger, mood swings, language breakdown and long term memory loss. With time, the disease progresses and the symptoms become so severe that independent living at home is no longer possible. When this time comes, there are specialized Alzheimer facilities which cater to the specific needs of the individual. In addition to help with grooming and bathing, dressing, toileting, ambulation and transferring, these specialized communities also provide:
Security measures to ensure safety for those who wander

Specially trained staff

Activities geared toward the Alzheimer's individual

A layout providing ample walking space
Please use the Search Box at the right to search for specialized dementia/alzheimer's communities in your area.
View Facilities
Search our comprehensive directory of
senior living communities in:
Allegheny County
Beaver County
Butler County
Washington County
Westmoreland County